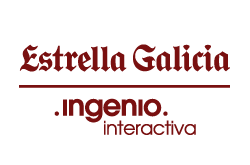 Ingenio Interactiva & Estrella Galicia
Graphics for the social networks of Estrella Galicia developed in my work for Ingenio Interactiva.
Web Design
Html web design.
CMS WordPress.
Online shop (Woocommerce).
Graphic Design
Branding.
Print design: Flyers, labels, posters, roll ups …
Packaging.
Vehicle branding.
Illustration
Digital illustration.
Traditional illustration. (Drawing & Watercolor)
Textile design
Graphic design for textile printing.
Labelling.
Garment design.
Quality supervisor.
Media design
Video edition.
Motion graphics.
Community management.
Software
Adobe Illustrator.
Adobe Photoshop.
Adobe Premiere.
Adobe After Effects.
Logic Pro X